What is time registration?
Time registration is frequently used in companies to register absence and working hours spent on a given project or assignment. For most companies, this is an essential part of the personnel administration.
You can handle time registration digitally with Acubiz
In other words, time registration is all about keeping track on what employees spend their time on and how much time is spent. The purpose of doing this vary from company to company. There are various systems and applications that can help with the time registration. The classic time sheet is still used in many companies, but digital and cloud-based time registration solutions is becoming increasingly popular.
Different types of time registrations
A time registration solution will typically provide access to holiday- and absence registrations – such as:
Holiday
Extra days and lieu days
Leave of absence
Sickness
Many companies invest in time registration solutions so their employees have the possibility to register exact working hours – that may be on specific tasks, cases, projects, customers etc. For companies working case- or project based it's necessary that they can prove the actual working hours since invoicing often will be based on this.
The benefits of time registration
Time registration has many benefits.
It highlights real-time consumption, work patterns, and the scope of tasks/projects. This data is valuable for companies as it provides an overview and insight into whether workflows can be streamlined.
If, for example, 9 hours are spent on a project set to 8 hours, it will be relevant to look into the details and investigate what the employees have spent their time on to determine whether it is possible to reduce the time spent and avoid wasted time.
A time registration solution enables companies to invoice customers accurately – provided that another price has not been agreed beforehand. If the company has hourly employees (such as student assistants), time management makes it easy for them to register their work hours.
In many cases, the time registration solution can be integrated with the payroll system, making payroll more manageable and automated. In addition, it saves the accounting department from manual processes.
Remember to set clear guidelines for time registration
Although there are many advantages to digital time registration, the disadvantage is that it requires trust. Employees often have to actively start registering their hours, which requires that they all understand that their paid salary is calculated based on this. Good advice for the employer is to set very clear guidelines for how employees should use time registration. This way, there is no doubt when the salary is paid out.
Digital time registration with your smartphone
With Acubiz it is possible to register time – hour based or project based – in an efficient and fast way on your smartphone via our app.
Time registration via an app helps to create complete control over the economy surrounding internal and external projects, customers, and cases. Additionally, registering hours with the mobile phone eliminates the need for complicated spreadsheets and forms to avoid more hassle.
Say goodbye to crumpled timesheets
By integrating time registration into one of the systems in your company (such as the payroll system), you can easily and quickly streamline everyday life, where you and your employees don't have to deal with crumpled timesheets.
Instead, you can get information directly from the system when it comes time to pay salaries or if you want to investigate the time spent on a task. It is also much easier to monitor the amount of overtime.
EU member states required to register working hours
Main take outs from the directive illustrated in relation to existing rules.
In the future, it will be the employer's responsibility to ensure that employees record their working hours. The employer will be obligated to provide time sheets or a system for the employees (there is no requirement for it to be digital). This ensures that employee representatives and labor inspectors can verify compliance with labor laws regarding maximum working hours. For example, employees may work a maximum of 13 hours per day, and there must be an uninterrupted rest period of 11 hours within each 24-hour period.
With mandatory time registration, this can be best ensured. The EU directive has not yet been implemented and is therefore not applicable in many member states, including Denmark. However, this is imminent, as the first reading of the bill is scheduled in the Danish Parliament on November 16, 2023. Subsequently, there will be a second and third reading, with expectations of adoption and enforcement no later than July 1, 2024.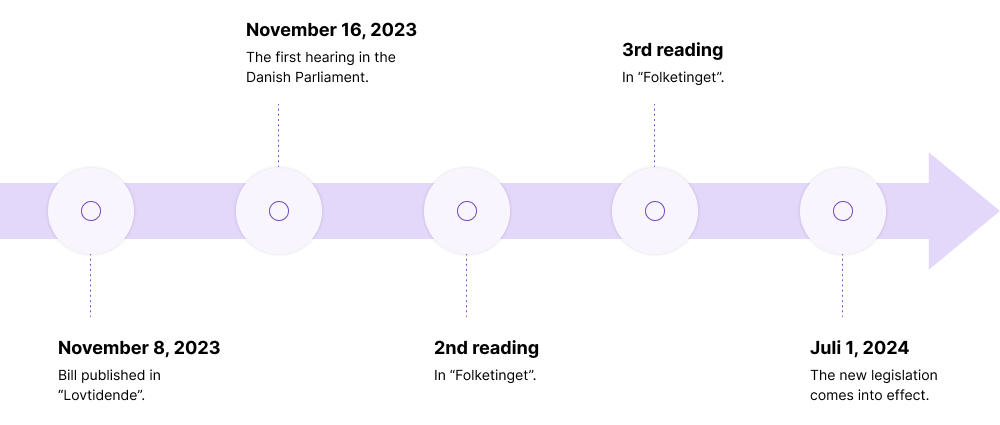 Timeline with main events until the new legislation.
It is expected that the system to handle time registration should:
Be objective, reliable, and accessible.
Measure daily and weekly working hours.
Allow employees access to the information in the system.
Store the information in the system for 5 years.
Time registration is getting more and more relevant for employers. We can help setting up the right solution to suit your needs. In that way, time will be released to spend on your actual work tasks. Contact us and get a demonstration on how it works.